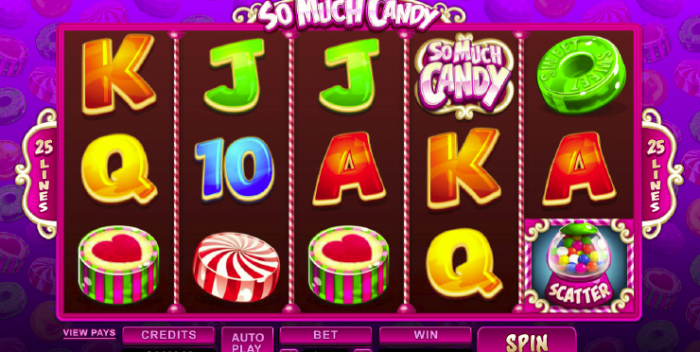 The candy may look like those dollar store hard candy drops from Grandma's purse, but rest assured that So Much Candy has potential to pay out a little more than those shiny nickels she used to give out! So Much Candy is a treat for casino gamers of all legal ages. The background music and candy store backdrop has the magic of Willy Wonka, but the sleek and colorful animation makes for a modern, appealing design.
The standard 3 x 5 set-up with the 25 line norm is fully intact. The wins are multiplied by the bets wagered, and the game can be played in a basic mode or Free Spins mode, just like its brother and sister, So Much Sushi and So Many Monsters. There is a lot of room for continued earnings with each new piece of candy (in the style of rock and fruit drops) displayed, up to an amazing 32,000. That's a lot to be made from the comfort of your couch (or wherever you plant that tush)!
The old school charm of a candy store makes the interface really sweet! The light music background is far from distracting and the gumball machine Scatter symbol looks neat. When 3 candies appear in a row, the Much More Candy feature allows a chance at more remarkable rewards. A High symbol can split into 5, while the Split symbol could help you reach a 25 of a Kind pay line! How many shiny nickels do you think that would pay out?
So Much Candy is another brilliantly designed game from Microgaming, and it's a lot of fun to play. The speedy, energetic style should be a delight for a spirited generation of gamblers. Whether you let your sweet tooth do your bidding or live in fear of cavities, this game will give you a nice little adrenaline (or perhaps, saccharine) rush!
Taste the sweet game here at Super Online Casinos: