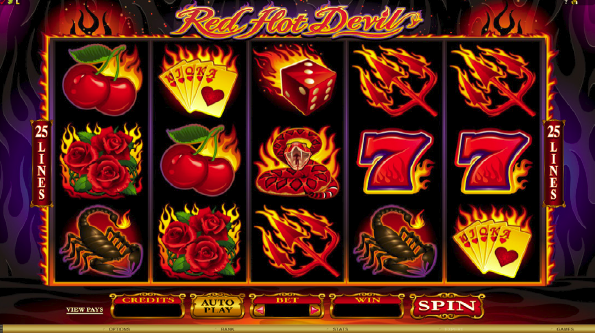 Microgaming's latest slot game, Red Hot Devil is glamorous, entertaining, and packed with insane bonuses for avid players. Enter the Devil's den and have some goodies! 3, 4 or 5 Scatters positioned anywhere on the reel trigger a Bonus Choice. The player gets to choose from Wheel of Fire Bonus Spins, Red Hot Multiplier Spins or Red Hot Wild Reels.
The amazing Red Hot Multiplier awards players with 10 Free Spins. There's also an incrementing multiplier valuation from 2 to 10x. The range of the multiplier is determined by the number of Scatters. When Scatters hit Reels 1 or 5, the Free Spin feature is retriggered. Does it get any better than this? Hell yes! In Wheel of Fire, there's a Pick Until Pop Game feature available. Players get to choose a fiery orb from 10 choices. Each of these orbs hide special items with insane winnings. Heart symbols hide prizes and re-picking opportunities, and the Special Heart symbol offers a bonus multiplier.
As for the Free Spins in Red Hot Wild Reels, players get 10 Free Spins at a multiplier 1x. Each time you spin and you land on Reels 2, 3 or 4, they turn wild. If your Scatter symbols lands on Reel 1 OR 5, once again the reel turns wild. If your Scatter lands on Reels 1 AND 5, your Free Spin feature is retriggered with 10 additional spins.
Red Hot Devil is all about spinning, scavenging for Scatter symbols, and of course, winning. The more you bet the higher chances you have to win big. This devilish platform entices players with juicy symbols and classic rock designs; featuring flaming backgrounds and fiery bonuses and awards, Red Hot Devil will exceed all your expectations. Ready to meet the She-Devil? As soon as you hit the Wheel of Fire Bonus of the Red Hot Wild Reels, she's gonna be there to award you some extra features.