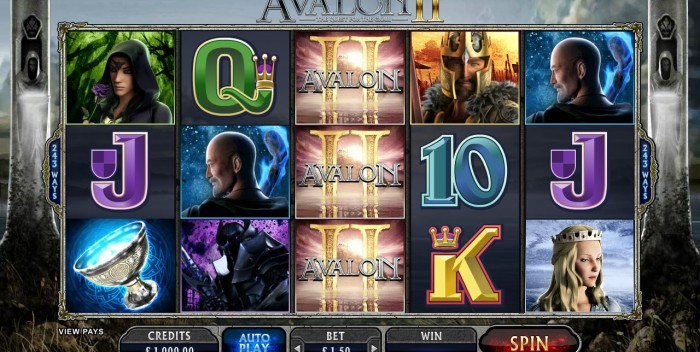 The quest for the Holy Grail has been sought after for many years. Legend has it King Arthur started the search and in recent years, Monty Python and Indiana Jones have both had a shot at discovering the whereabouts of this mythical object through film.
Now you can seek the Grail yourself and give yourself a chance to win a jackpot of up to 2,400,000 coins when you play the fabulous new 5-reel, 243-payline slot Avalon II, when it hits casinos this February.
Based on the successful Avalon slot, this new game sees you join King Arthur in his fabled quest for the holy grail, starting with the exciting base game, which sees the mysterious wizard Merlin appear randomly to award cash multiplies and random prizes of cash to the lucky player.
What really makes Avalon II a quest though is the fact that there are eight different bonus games accessible from the base game. Follow them on your in game Trail Map and progress through them as you head towards that elusive Grail.
First you need to extricate Excalibur and reforge the famous sword from the Lake of Legends, before heading to the Misty Vale, where you can select an icon as a Wild to give you more chances of a winning line.
Next up it 20 Free Spins with Trailing Wilds at the picturesque Will Forest Falls, before the benevolent White Knight offers you the chance to pick a shield, containing a prize.
The clock is ticking next time out as you match battle helmets with the longer the clock ticks for, the more you win and then it is off to the Keep of Morgana for another 20 free spins, with Rolling Reels and a 2x multiplier!
Lastly defeat the fearsome black Knight to win the Grail before the final bonus game, spinning the Wheels of Avalon to claim a big prize!
Finding the Holy Grail hasn't been this much fun since Monty Python had their chance in the 70s and you'll get to play Avalon II in your favourite casino from February!